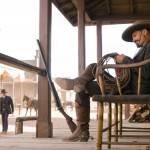 Four time Oscar nominee Ed Harris is bringing Robert B. Parker's western drama Appaloosa
to the big screen on September 17, 2008.
Appaloosa is about two friends that have been hired to protect a town from a ruthless rancher. Things get more complicated when a lovely widow arrives in town. Starring opposite Harris will be Viggo Mortenson (Lord of the Rings).
Reference links:
http://www.imdb.com/title/tt0800308/
http://welcometoappaloosa.warnerbros.com/