Legendary singing cowboys Tex Ritter and Eddie Dean were stars of radio, film, records, TV and personal appearances and heroes to millions of fans from the Saturday matinee era of the 1930's and 40's on into the television era.
Both men were born and raised in Texas and their careers were similar in many ways. Tex was born Woodward Maurice Ritter on January 12, 1905 in the little town of Murvaul, TX. Eddie Dean was born Edgar Dean Glosup on July 9, 1907 in the small town of Posey, TX. Both had musical careers on radio before coming to Hollywood in the mid-1930's. Between 1935 and 1945, Tex starred or co-starred in 60 B-western feature films. Dean appeared in dozens of movies between 1934 and 1945, often as a member of the gang, one of the posse, or part of a group of cowboys singing around the campfire. Many of these roles were unbilled non-speaking parts. Finally in 1945, Eddie got his big break and starred in 18 singing cowboy westerns.
The Happy Trails Children's Foundation is proud to honor Tex Ritter and Eddie Dean this year with Silver Screen Legend XV. This is the 15th year the foundation, through the generosity of the renowned Colt's Manufacturing Co. LLC of Hartford, CT, has used very special guns and holsters to raise money for abused children.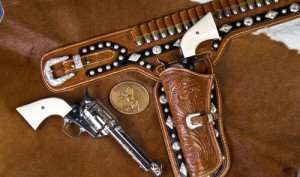 The exquisite engraving on the pistols, the custom tuning of the six-guns and the magnificent silver spots, conchas and buckle sets on the belt and holsters were provided by Conrad Anderson, Rocktree Ranch. The genuine pre-ban elephant ivory grips on the guns were hand crafted by Bob Leskovec, Precision Pro Grips, from Ivory donated by David Warther, of the Warther Museum in Dover, OH. Jim Lockwood of Legends in Leather crafted the hand-carved and Sterling silver mounted double holster rig in the Tex Ritter and Eddie Dean style. Ron Love made and donated the prop cartridges. All of these wonderful people and companies are enduring examples of that very special American spirit known as "the cowboy way."
Renowned western entertainers Roy Rogers and Dale Evans spent a lifetime devoted to children and their support of children-at-risk is well documented. The Happy Trails Children's Foundation is proud to carry on the work with abused children who were so important to Roy and Dale. However, we need your help!
As a result of our association with Roy and Dale, and the positive and wholesome family values and American Tradition they represented, the Happy Trails Children's Foundation is the only known children's charity in the country today that actively supports shooting sports, Second Amendment Rights and responsible gun ownership, and is in turn supported by generous contributions from shooters, collectors, organized shooting sports and the firearms industry! We are proud of this unique partnership!
Order your tickets today for this beautiful and unique museum quality one-of-a-kind cowboy collectible. Tickets are $10 each or 11 tickets for $100. The drawing will be held Saturday evening, December 15, 2012. YOU DO NOT NEED TO BE PRESENT TO WIN! The winner will be notified by phone. You may check our web site for the winner's name, after the drawing.
The total proceeds of this drawing benefit the Happy Trails Children's Foundation for abused children. The Happy Trails Children's Foundation is a charitable non-profit organization under section 501(c)(3) of the Internal Revenue Code. All donations are fully tax deductible to the extent allowed by law. You may order tickets by phone (760) 240-3330 or online. American Express, Discover, MasterCard and VISA accepted. Or you may send your check to:
Happy Trails Children's Foundation
Silver Screen Legend XV
10755 Apple Valley Road
Apple Valley, CA 92308
(760) 240-3330
www.happytrails.org