SHOOT! Magazine covers many different types of Western-action shooting, including cowboy action shooting, cowboy mounted shooting, black powder cartridge rifle silhouette, cowboy fast draw, and other types of Western style shooting.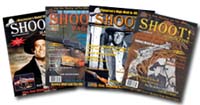 Save 39% off the newsstand rate! Enjoy six issues of Shoot! Magazine plus their annual special edition (7 issues total) delivered to your mailbox every year.
You will find the staff of Shoot! Magazine on their own Forum here in Cas City.
There you will find links to their own website and how to subscribe.
VISIT THE SHOOT! FORUM WITH LINKS TO SUBSCRIPTION AND MORE !