Pettifogger,

If I'm understanding correctly, the 1st gen Colt Lightnings and the Ubertis will "slam fire" like the Winchester '97 pump shotgun because they don't have a slide lock.

I have a Berretta Gold Rush Model Lightning Carbine which is made by Uberti. I can dry fire it, hold the trigger down, pump it and the hammer will drop. So I'm concluding that it's a copy of the Colt 1st Gen Lightning w/o a slide lock which is what allows it to be 'slam fired'. Is that right?

Jim

There is some misunderstanding of terms here or false information. I have had every Colt Lightning configuration and caliber in all the frame sizes and shot them extensively. All the medium frame Lightnings, including the first model with the external slide lock, lock up the bolt at full cock so the slide cannot be operated. If the gun doesn't lock in the cocked position, the locking mechanism is worn.
Slam fire won't happen with a Lightning, unless there is wear on those same parts. You can hold the trigger down on the rifle and pump the action as quick as you can but the hammer will not fall until the action has closed. If it doesn't work in that manner, there is wear on those parts.
I have shot thousands of rounds through these guns, I have 2 first models and 1 later model with the dust cover. They all work exactly the same. They are in excellent original condition and continue to work as well as when they were new. The internals weren't hardened as parts might be today, with age and rough treatment these parts can have mechanical problems. These problems can be perceived differences in manufacture.
Here is a copy of the description of the patent with the description of the bolt lock on line 86 in the second column.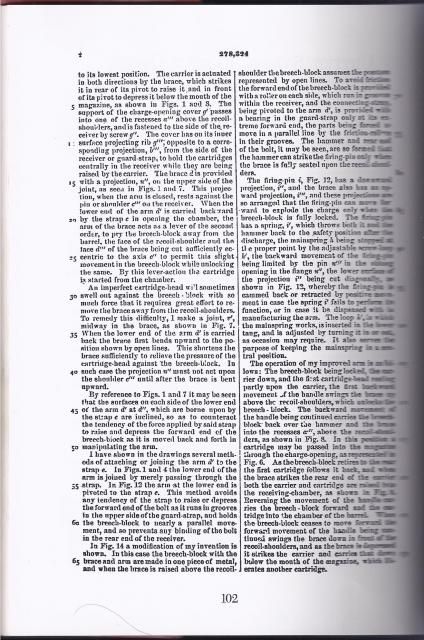 These are my Lightnings and they still function properly...